FLAVORS OF BURGUNDY
August 22-August 29, 2024 | 7-night river cruise aboard AmaCello
Join Stephen and Gloria and indulge in French flavors on a palate-pleasing itinerary that highlights the essence of France's Burgundy and Provence. Uncover the Roman history of Chalon-sur-Saône and delight in charming Tournus. Visit French châteaux from Burgundy to Provence, taste your way through the French culinary capital of Lyon, and visit the Papal Palace in Avignon. While you'll get more than a taste of Burgundy and Provence during this itinerary, the essence of these destinations will linger on your palate—and in your heart—for a lifetime!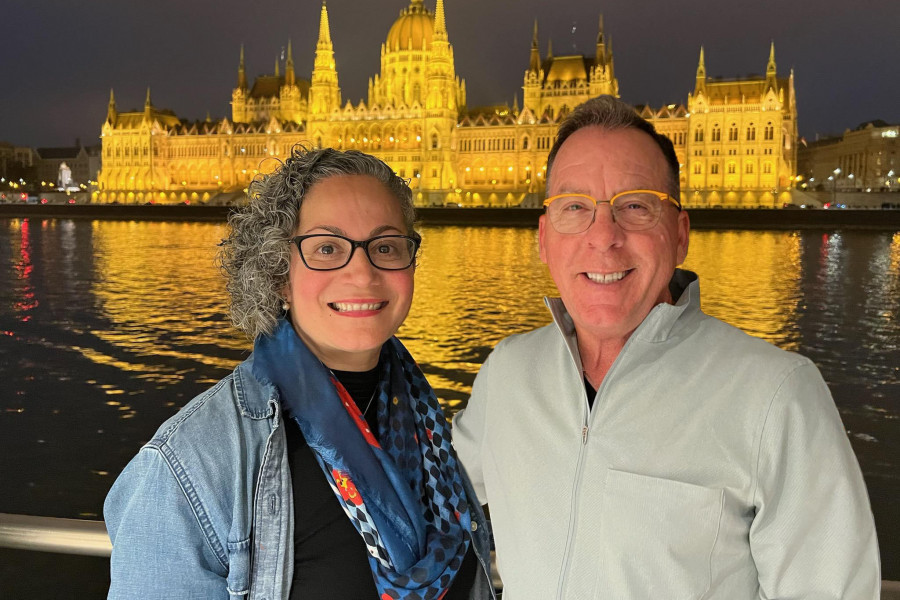 FEATURES
7-night cruise in elegantly appointed accommodations
Unlimited wine, beer and soft drinks with lunch and dinner on board
Fine dining at The Chef's Table and Main Restaurant
Sip & Sail Cocktail Hour
Small group guided shore excursions with a variety of choices and activity levels
Exclusive Wine Cruise features including tastings, tours and discussions
Daily Program
Date

Destination

Activities/Shore Excursions

Aug 22

Port of Dijon

EMBARKATION
Aug 23

Port of Dijon

OR "Banks of the River Saône" bike tour OR Château d'Arcelot visit

Seurre
Free evening
Aug 24
Seurre
Beaune Excursion

Chalon-Sur-Saône

Scenic cruising OR Bike tour OR Clos de Vougeot wine tasting
Aug 25

Chalon-Sur-Saône

Historic City tour OR Château de Couches

Tournus

Scenic cruising OR Chalonnaise wine tasting

OR Chalon-Tournus bike tour

Aug 26
Mâcon

Scenic cruising

OR Tournus-Mâcon bike tour OR Mâconnais wine tasting

Aug 27
Mâcon

"The South Burgundy City" Mâcon tour OR Cluny Abbey visit

Aug 28
Lyon

"France's Culinary Capital" city tour OR Les Halles tasting tour

OR Lyon bike tour Beaujolais wine tasting

Aug 29
Lyon

DISEMBARKATION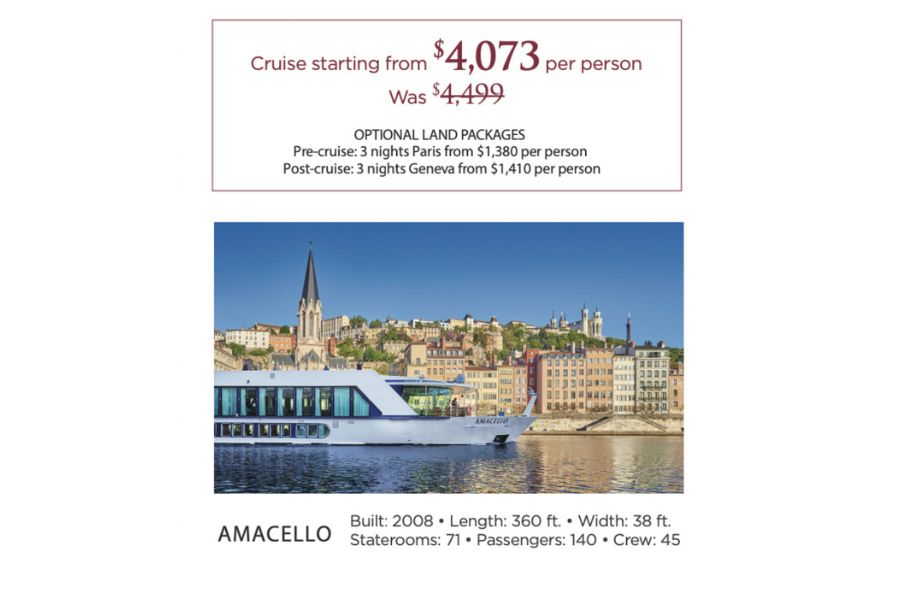 Extra Features
Special tours and tastings at local wineries and private cellars
Learn about winemaking in renowned vinevards
Onboard wine pairings with award-winning cuisine
A wine expert who leads tastings and discussions
Contact Info
Jane Green
541.672.5701
jgreen@travelleaders.com
Travel Leaders/FIy Away Travel
1445 WEST Harvard Ave.
Roseburg, OR 97471
Testimonials
"I am so excited for this upcoming cruise (my third)! I had such a wonderful time on my last cruise, with the Reustles. Amawaterways treated us like royalty. The staff, the ship, and the food was all unbelievable. I was surprised that all our excursions were included in the package - it truly was "All-Inclusive!" This cruise will be an intimate journey through France's Burgundy region. I can't wait to see it with Stephen and Gloria!"
-Marian Stratton
"I've sailed with Ama twice, both on wine cruises. This cruise with the Reustle will mark my third. The smaller ships provide a wonderful environment for getting to know your fellow passengers. The daily excursions into the countryside are geared for all ages. They are always entertaining and informational. You will come home with new friends and a greater appreciation of the world as well as a better understanding of the world of wine."
-Pete Buechel
"We are seasoned cruisers, but this was our first river cruise. From the time we were greeted by an AmaWaterways representative at the airport and taken to our hotel we encountered a high level of professionalism. Our gourmet meals were very well prepared and our wine glasses never were empty. The crew and staff were very helpful and engaging. The entertainment in the evenings by local artists were very good. We highly recommend AMA Waterways."
-Penny and Phil Piazza